Romantic Akaroa Accommodation
Settled by the French in 1840, Akaroa has retained it's 'French Village' character with many colonial-style buildings and french street names. Mix in the ambience of a small seaside settlement with numerous bars, restaurants and galleries and Akaroa makes a great getaway weekend.
FEATURED LISTING

Garthowen
5 Star Luxury accommodation right on the waterfront, immediately opposite the main beach, and only a few minutes walk to all the cafes, bars, restaurants, shops and galleries. Harbour views from most rooms. Request a room with a bath in the ensuite and relax in the claw foot bath surrounded by bubbles and candles.



Akaroa Country House
Very private, the cottage is 200m away from the main house through a meandering pathway. The cottage is nestled alongside a small stream with an outside bath for candlelight stargazing The cottage is situated on 6.8 hectares of land in the green, secluded Takamatua Valley in Akaroa Harbour, surrounded by native forest, creeks, and birds.

Tree Crop Farm
If you like your romance a little different. A romantic set of 'Bohemian Love Shacks' in a country setting with outdoor baths and natural walking tracks. Those not looking for accommodation in akaroa can still walk through the gardens and have berry juice or other refreshments in the cafe.

Akaroa Restaurants
Harbour 71 restaurant
(our Akaroa favourite) is best in the evenings with subdued mood lighting creating an intimate atmosphere for a small number of diners.
Romantic Things To See and Do in Akaroa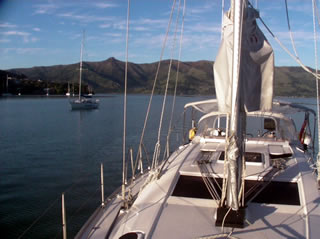 Akaroa Sailing Dining
A casual picnic onboard or an evening barbeque in a secluded harbour then stay onboard overnight.
A Class Sailing
Harbour Cruise around Akaroa Harbour on a 47 foot Classic Ocean Sailing Yacht, one of the last A-Class keelers built.
www.aclasssailing.co.nz/
Swimming With Dolphins
Swim with wild dolphins in their natural habitat. Akaroa is the only place where you can swim with the worlds smallest and rarest dolphin - the Hector or New Zealand Dolphin.
www.swimmingwithdolphins.co.nz/

Horse Trekking
Western-trained Quarter Horses on a 309 ha sheep and cattle farm. Ride on well formed tracks through pastoral land with spectacular views over native bush and the Akaroa harbour.
www.onuku-heights.co.nz/

French Farm Winery
French provincial style restaurant with harbour views.
www.frenchfarm.co.nz/
Lumiere Day Spa
Located in the centre of Akaroa, Lumiere Well-being Centre provides a range of massage and health treatments to pamper your body and mind.
www.lumiere.co.nz/
Cinecafe
A lovely boutique theatre with plush seating with a table for your coffee or glass of wine. The best of art, foreign, classic and new films.
www.cinecafe.co.nz/

Akaroa Walks
Set in an extinct volcano crater, beautiful Akaroa is the only French colony in New Zealand and the oldest colonial town in the South Island. No visit to Akaroa is complete without a guided Historic walk - the perfect introduction to this special place.
www.akaroawalks.co.nz/
The Akaroa info centre can provide maps of additional walking trails around the harbour.