Romantic West Coast Accommodation
Teichelmans Bed and Breakfast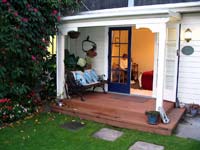 This historic West Coast accommodation includes the 'Teichy's Garden Cottage'. A small two-room cottage with just a romantic bedroom and spa bath - what more do you need for a romantic weekend away. Centrally located, close to the beach, galleries and restaurant.
Next door is Steven Gwaliasi's Greenstone gallery. Spend a few thoroughly absorbing hours creating your own Greenstone carving (create jewellery for each other). We were both delighted with our own creations. A rare artistic success for us. No experience (or talent) required. Seriously. Steven will guide you through the whole process....and of course those glorious West Coast sunsets. The beach is just a short walk from Teichelmanns B&B.
Lake Brunner Resort
In the Township of Moana, just over two hours from Christchurch and 30 minutes from Hokitika. this resort has its own restaurant and offers fabulous views across the lovely lake and towards the mountains. Perhaps the best choice, if you are looking to fan the romantic flames, is their Superior Elite Unit, a two storey unit with a king bed and large bathroom including a spa bath. It has well appointed kitchen, lounge and dining areas as well as a private courtyard.
www.lakebrunnerresort.net.nz
Rosewood Bed and Breakfast
www.rosewoodnz.co.nz
Chalet Pininoa
www.pininoa.co.nz

Romantic Ideas For the West Coast
Thinking of the West Coast conjures up images of dense rainforests filled with tall Rimu and Kahikatea trees emerging from the dense undergrowth of ferns and shrubs. You do not need to plan for several hours of tramping to enjoy this. Just 10km south of Hokitika is Jum Michel Track in the Mahinapua Scenic Reserve. This short 20 minute track will give you a small taste of lush West Coast rainforest. As always when venturing into New Zealand bush, be well prepared, weather conditions can change quickly.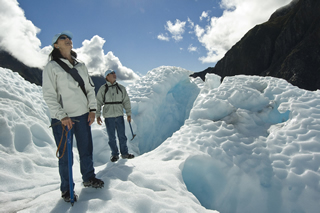 Hokitika Gorge
Marble-like rocks rising from the vivid turquoise blue glacial water creates a unforgetable image. Well worth the detour but make sure you take insect repellant as sandflies are abundant.
Franz Josef Glacier
Not really a rainy day activity but the Franz Josef Glacier is well worth a visit in any other weather. There only a few places in the world where glaciers exist in such a mild climate and is so accessible to visitors. There are over 60 glaciers throughout the National Park so a scenic flight around the surrounding mountains is really spectacular.
The locals assure us that most of the West Coast rain falls during the night when everyone is asleep. This has certainly been my experience during many trips to the West Coast where the daytime weather forecast has been much wetter than the reality. However I have also been on the West Coast when it has rained, and rained and rained. So be prepared for the wet but don't let it spoil your fun. There are plenty of things to do on the West Coast if you want to venture out.
Pancake Rocks
If you are lucky enough to be at the Punakaiki Pancake Rocks on a stormy day you will see this spectacular location at it's best with the westerly swells surging against the multi-layered limestone and generating geyser-like explosions from the underwater chasms.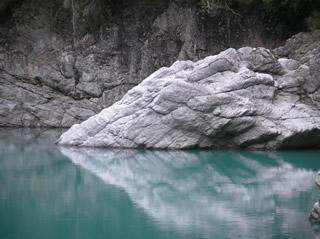 Hokitika Gorge
Hukawai Glacier Centre
Indoor Ice Climb at Franz Josef is an exciting all weather activity.
www.hukawai.co.nz
Steven Gwaliasi's Greenstone Gallery
In Hokitika create jewellery for each other at Steven Gwaliasi's Greenstone gallery.
Jacksons Tavern - a worthwhile stopover on the journey through Arthurs Pass, especially if it's a cold winter's day and their huge log fire is roaring.